Summer Sessions 2016: While At Sessions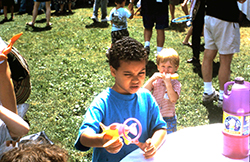 Fun(d) Fair 1998
On this page:
Helpful People at Summer Sessions
Conference Services Liaison: Martha Gurvich
Display Requests: Karen Snare
Financial Assistance: Helen Garay Toppins
Food-Service Coordinator: Martha Gurvich
General Scheduling: Melanie-Claire Mallison
Golf Cart Coordinator: Angel Ramos
Greetings to Absent Friends: TBD
Interest Group Coordinator: Helen Garay Toppins
JYM Program Coordinators: Ellie Rosenberg & Rebecca Wolf
Daily Minute Editor: Communications Director
Special Needs: Martha Gurvich
Whisper Buddies: Jillian Smith
Worship Sharing Groups: Melanie-Claire Mallison
All registration questions: Helen Garay Toppins,

[email protected]

; 212-673-5750; NYYM 15 Rutherford Pl., New York NY 10003.
Special Needs at Silver Bay
Martha Gurvich, Special Needs Coordinator
Friends who indicate special needs on their registration form will receive a form from the NYYM office requesting specific information on your needs. This information is only shared with Silver Bay as needed to find appropriate accommodation. Friends will also have opportunities to serve as special-needs volunteers with a checkbox on the registration form.
Housing. Five mobility-accessible sleeping rooms, with bathrooms, are reserved in the Inn for those using wheelchairs (and their roommates). One-tenth of the rooms in the Inn will be reserved for people who, for any reason, find it physically difficult to room elsewhere. These rooms will be held only until July 1 and then will be released for general availability.
If you have a disability or illness that makes it hard for you to climb hills or steps, please make sure that you sign up early and request one of the reserved rooms. Financial assistance is available from the Equalization Fund.
Friends who are unable to transfer themselves to and from wheelchair/bed, etc., and require special assistance with dressing, bathing, or other personal needs must arrange this assistance on their own and the person assisting them must stay in their room. The caregiver must attend for the length of the stay of the person they are helping.
Worship and Meetings. The people who set up the worship-sharing groups need to know if you have hearing or physical problems so that note takers can be provided or accessible locations allocated. Please indicate on your registration form if you require such assistance.
Food Service at Silver Bay
Martha Gurvich, Food Service Coordinator
Friends, please remember: you must be wearing your name badge to enter the dining hall. Lost badges incur a $2 replacement charge.
Meals begin with dinner on Sunday evening and conclude with breakfast on Saturday. If you plan to arrive at Silver Bay early enough to have lunch on Sunday, you must make arrangements with Silver Bay YMCA in advance to purchase this meal; it is not part of the conference package. Likewise, if you intend to stay through Saturday lunch, you must arrange and pay for Saturday lunch at the Front Desk by the Thursday of the conference.
If you are a vegetarian, please indicate this on your registration form. Please see the NYYM website for additional information regarding special diets, special food storage and dining hall hours of operations.
Silver Bay will provide standard and vegetarian menu choices for each meal. Vegetarian meals include eggs, milk, and cheese, but no meat or fish. Silver Bay cannot accommodate "specialty" diets. Lunch and dinner both have a full salad bar. For those with other special dietary needs, we recommend that you bring your own food. Silver Bay will provide refrigeration. A refrigerator will be made available in the dining hall for baby food, etc., for use only during meal times. It will not be available after 7:00 p.m. Cooking facilities for those with special dietary needs (though not for campers) will be available in Paine Hall—1st floor off rotunda. The Silver Bay cooks will not add salt to either the regular food or the vegetarian food. Salt shakers will be available on the tables.
The dining hall opens at least thirty minutes each day before stated meal times. This is to help ease the way for families with small children and Friends who are physically challenged, along with their helpers, in the hope these Friends will have the time and space to get their meals and settle in before the larger group steps into the line. Please allow these Friends to go to the front of the line at all meal times and remind them to feel comfortable stepping up. We also encourage all of the community to lend a hand to anyone who might seem overwhelmed and in need of help carrying plates, bowls, etc., getting drinks, or navigating the busy dining hall. Mealtimes can be stressful for the youngest among us, our physically challenged friends, and their families and helpers. Your kindness will be deeply appreciated.
Committee Displays & Meeting Space
Karen Snare & Helen Garay Toppins, contact person
Download the Summer Sessions Display Request form.
In order for us to organize display spaces at Summer Sessions arrangements should be made in advance, ideally by July 1st. Request forms, approved by the sponsoring NYYM Committee, should be submitted prior to the start of sessions. There should be someone designated to be responsible for each display. That person will set up and break down the display and will also monitor the space during the week to check that it is in good order.
All displays at YM sessions may include passive fundraising appeals such as envelops that contain invitations to send or pledge money. Seeking cash donations at display spaces is strongly discouraged, especially if the display space is not under constant supervision by a human presence. When supervised, display spaces may include active fundraising. Be sure to include in your display request any need for internet access in order to facilitate your active fundraising. Note that "fundraising" is not to be confused with actively selling items. See the full Fundraising Policy for NYYM Sessions for information on the selling of items.
The Sessions Committee's Display Coordinator will allocate space based on the number of requests received. Notes will be placed on the assigned table for each display. The spaces will not be available for set-up until Sunday evening at the start of sessions.
Non Yearly Meeting organizations and displays that take up larger areas of space beyond a six-foot table need to be approved by the clerk of Sessions Committee, who may bring the request to the committee-as-a-whole for review. Such special requests will be brought to the clerk by the Displays Coordinator and the Coordinator will be in communication with the requester after a decision is reached.
Please download, fill out, and email the NYYM Summer Sessions Display Request to Karen Snare, [email protected] and be sure to copy the office at [email protected].
Healing Work at Summer Sessions
Buffy Curtis and Healing Center Support Committee
This year at Summer Sessions, The Healing Center will begin its second decade of service to the yearly meeting. It will be located in Sproul Pavilion and will have regularly scheduled hours for healing work. The hours are dependent upon the corporate body schedule so remain flexible.
We are inviting Friends who work in the healing arts or who are interested in helping with healing work to join us! There will be an organizational meeting of healers and helpers on Sunday night in Sproul. Notices will be posted for time.
We are looking for volunteers who would offer their skills in the healing arts or support the work by greeting and scheduling. Skills can include energy work (Healing Touch, Reiki, Therapeutic Touch, etc.), massage, Rolfing, craniosacral, spiritual counseling/direction, or other areas of healing work. Practitioner volunteers should have training with qualifications or experience relevant to their practice. Friends who are interested or perhaps feeling "called" to the work are welcome to "buddy" with other practitioners as possible.
Additional needs are for people to meet and greet; helping to match those desiring work with the practitioners available. Those wishing to hold the space in prayer are welcome indeed. It is yet another extension of worship, after all!
Friends who might be interested in becoming coordinators would be welcome and definitely appreciated.
Please contact Buffy Curtis, [email protected], 508-566-6639 (cell), to offer your assistance, make suggestions, or let us know what else you need. We will meet with volunteers on Sunday night of Summer Sessions to organize and clarify details. Notices of the days and times will be posted and in the daily minute.
With gratitude for holding this ministry in your care, we look forward to hearing from you and to seeing you at the Healing Center.
About Fundraising During Summer Sessions
Melanie-Claire Mallison, contact person (

[email protected]

)
First, please note the following information from NYYM Financial Services Committee:
"All committees, groups or persons undertaking fundraising or spending within the Yearly Meeting, to the extent consistent with the directions and limits of any gifts or trust instruments, will coordinate their fundraising and spending activities with the Financial Services Committee so as to jointly further the implementation of the Leadings and Priorities."
As we gather in faith to conduct the business of New York Yearly Meeting (NYYM), it is with care and consideration that any fundraising is undertaken during our sessions, Spring, Summer and Fall. Anyone connected to a Quaker-related cause (e.g. AFSC, AVP, BQEF, ARCH, FCNL, Friends Peace Teams, NYYM Annual Appeals, and Quaker schools, meetinghouses and conference centers) is welcome to request display space to inform participants of their work and needs. Display space requests are sometimes received for non-Quaker-related causes and those will be decided on a case-by-case basis by the Sessions Committee Clerk and the session's Displays Coordinator.
All displays at YM sessions may include passive appeals such as envelops that contain invitations to send or pledge money. Seeking cash donations at display spaces is actively discouraged, especially if the display space is not under constant supervision by a human presence. When supervised, display spaces may include active fundraising. Be sure to include in your displays request any need for internet access in order to facilitate your active fundraising. Note that "fundraising" is not to be confused with actively selling items. See below for selling items.
The NYYM Development Committee will work with Sessions Committee to find a comfortable balance between the need of the Development Committee to do fundraising among some of NYYM's most dedicated Friends, and the need for Yearly Meeting sessions to remain a spiritually grounded, open hearted environment.
Regarding Summer Sessions:
There are three events that raise money exclusively for Powell House and the Sharing Fund. These are the Fun(d) Fair, the Tagless Tag Sale, and Café Night. The Fun(d) Fair is organized and sponsored by Junior Yearly Meeting, and includes games and refreshments available with the purchase of Fun(d) Fair Tickets. During that time, we also hold a Tagless Tag Sale. If you have sale items (new or used items in good shape) to donate, please bring them to Summer Sessions with you and there will be more information in the first Daily Minute on where to place your donations. (Tax-deduction receipts for in-kind charitable contributions will be available upon request.) Folks are encouraged to showcase their talents during Café Night, also organized and sponsored by Junior Yearly Meeting. Bring your instruments and hula hoops and join the fun!
Next, each summer a committee or group asks to hold an ice cream social to either fundraise or inform conference participants of the committee's work. Ice cream socials must be approved by Sessions Committee, on a case-by-case, via a request sent to the clerk of the committee. Of course, all costs for the social must be paid for by the requesting committee or group and for as long as we meet at Silver Bay Association, ice cream and other food items must be provided by SBA. The clerk of Sessions, along with the Conference Services Liaison, will work with the requesting committee or group on the details if an Ice Cream Social is requested.
Finally, since Sessions Committee does not allow 'active' selling at display spaces — that is, having someone sitting at the display space actually selling items of any kind — the committee will arrange a two-hour "Quaker Crafts" event at some point over the Summer Sessions week. At that event, anyone connected to a Quaker-related cause may work with the Conference Services Liaison to request a table and then actively sell items. While 100% of any proceeds made during the "Quaker Crafts" event is kept by the seller, it is a kindness to consider making a donation to any NYYM fund (Annual Appeal, Equalization Fund, Oakwood Friends School, Powell House, Sharing Fund, etc.).
Golf Cart Drivers Needed
Angel Ramos, Golf Cart Coordinator
Silver Bay is a beautiful place, but for some Friends, it is challenging to walk up and down the hills and from one meeting place to another. As in previous years, we will have golf carts to help Friends get around. We need volunteers to drive the carts. Are you 21 or older with a valid, clean driver's license? Those are the requirements to volunteer as a part-time golf cart driver. Driving the cart is easy, fun, a great way to serve the community, and a wonderful way to get to know Friends of all ages you might not otherwise meet. Please see the NYYM for more information and how to volunteer.
If 40 NYYM Friends each volunteer to drive a golf cart for two hours during the week, we will be able to maintain the level of golf-cart service we want to offer. To commit to driving for two hours or more, please contact the NYYM office at [email protected]. You may also contact the Golf Cart Coordinator, Angel Ramos. His contact information is in the Yearbook.
12-Step Meetings
Roseann Press, contact person
12-Step Meetings will be held every evening; 9:30 p.m. on Sunday, Tuesday and Friday, 6:45 p.m. on Monday, Wednesday, and Thursday. Nurture Coordinating Committee has oversight of these meetings, but needs to hear from people who would be willing to take responsibility for one or more of the meetings. To volunteer, please contact Roseann Press at [email protected].
This item was presented at