Overview
NYYM is an organization of meetings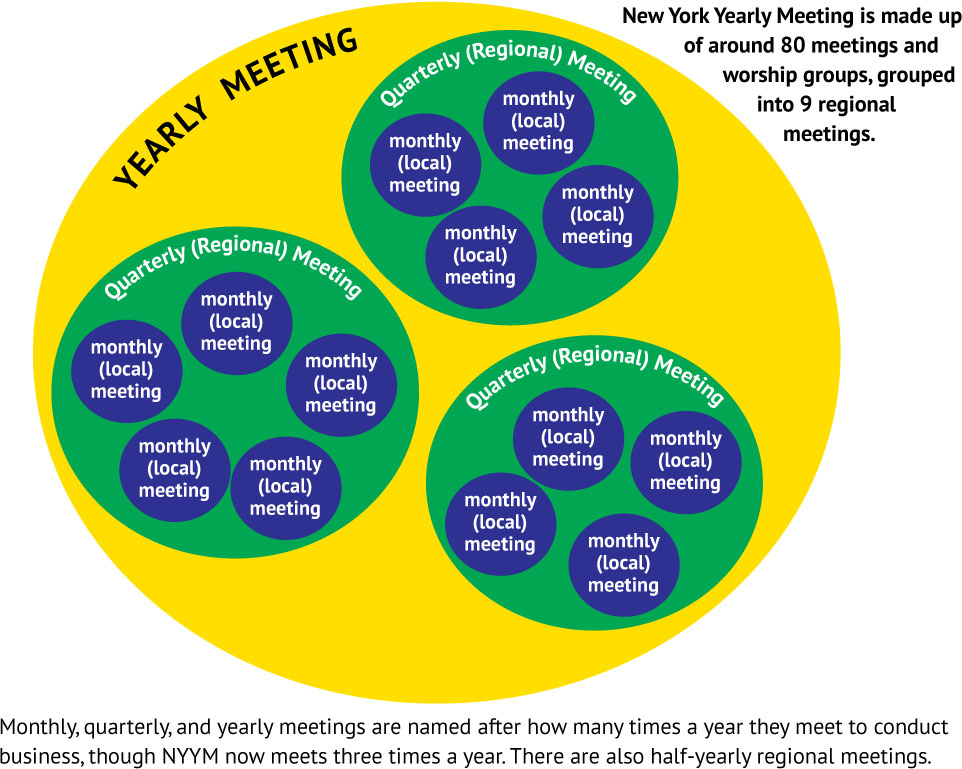 New York Yearly Meeting is a fellowship and an organization of around 80 meetings and worship groups, gathered into nine regional meetings that are spread across the state of New York, northern New Jersey, and southwestern Connecticut.
Monthly, quarterly, and yearly meetings are so called because of how many times a year they meet to conduct business, though New York Yearly Meeting actually meets three times a year. Some regional meetings are half-yearly instead of quarterly.
Our yearly meeting, and other yearly meetings worldwide, belongs to the Quaker affiliate groups Friends General Conference, Friends United Meeting, and Friends World Committee for Consultation. See below for the mission statements of these organizations.
NYYM is a member of:
Friends General Conference (FGC), with Divine guidance, nurtures the spiritual vitality of the Religious Society of Friends (Quakers) by providing programs and services for Friends, meetings, and seekers. www.fgcquaker.org
Friends United Meeting (FUM) commits itself to energize and equip Friends through the power of the Holy Spirit to gather people into fellowships where Jesus Christ is known, loved, and obeyed as Teacher and Lord. www.friendsunitedmeeting.org
Answering God's call to universal love, Friends World Committee for Consultation (FWCC) brings Friends of varying traditions and cultural experiences together in worship, communications and consultation, to express our common heritage and our Quaker message to the world. www.fwccamericas.org
New York Yearly Meeting is an organization
The Yearly Meeting organization includes a large number of committees organized into four sections: General Services, Ministry, and Witness. It also includes a number of staff. The Yearly Meeting also has a conference center, Powell House, located in Old Chatham, New York, and a school, Oakwood Friends School, located in Poughkeepsie, New York.
Organization chart—click the link to view a larger chart of New York Yearly Meeting's organizational structure.
New York Yearly Meeting is a gathered body when in session
At its spring, summer, and fall sessions, New York Yearly Meeting gathers as a body to conduct the business of the yearly meeting. At these times, the Friends gathered are enabled to speak and act on behalf of the yearly meeting as a whole.
Sessions Portal
Visit our Sessions Portal for more detailed information about NYYM Sessions, including web pages for past Sessions.
Summer Sessions
New York Yearly Meeting's annual sessions (Summer Sessions) are held every year for one week in late July at Silver Bay YMCA on Lake George in the Adirondack Mountains, in Silver Bay, New York.
Spring and Fall Sessions
Interim sessions are held in early April and early November. Spring and Fall Sessions are hosted by regional meetings throughout the yearly meeting on a rotating schedule.
People
Geography
Finances
Communications
NYYM Handbooks and Bylaws
Institutions
Affiliations
---
Meetings—Geography
New York Yearly Meeting is comprised of local and regional meetings located throughout New York State and northern New Jersey, and two meetings located in southwestern Connecticut. Click the following to vew a large-scale Google map of our meetings.
Back to top