A gathering of Quaker meetings and worship groups in New York state,
northern and central New Jersey, and southwestern Connecticut.
Welcome!
Looking for a place to worship?
Find a Quaker meeting near you or click Where To Worship in the menu above.
Want to know more about Friends?
To learn more about Quakers in general, check out the items in the Who We Are tab above. The Frequently Asked Questions section might be a good place to start.
The work of the Spirit among us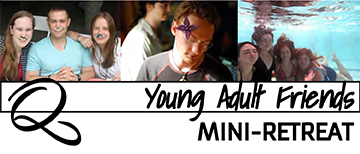 Young Adult Friends Mini-Retreat, Rochester Meetinghouse, April 4
Meet new friends, see old friends, practice spiritual work together! Another retreat on April 19 at Chatham-Summit Meetinghouse. Click here to download a flyer.
Apology to Afro-Descendants—Next Steps
In following up to the Apology to Afro-Descendants approved by New York Yearly Meeting at Fall Sessions 2013, the Yearly Meeting's Ministry Coordinating Committee proposed that a series of statements and queries related to next steps toward racial healing be sent to Friends to help us focus our attention on possible next steps. We have been posting a statement and query each week leading up to Spring Sessions. Week Five's statement and query appear below. Click the following to see all the statements and queries so far. Friends are encouraged to share these queries with other Friends in your meeting.
Week Five Statement: Some Friends of Color have said that they are not really seen in our Yearly Meeting.
Query 5. How might we share parts of ourselves that we fear may make us vulnerable?
View Conflict Transformation Committee's new films
Click the following to view the newly-produced film of the Committee's workshop Conflict in Quaker Meetings: Crisis or Opportunity?. You can view the full video of the workshop or any of its seven modules separately.