Giving as Meetings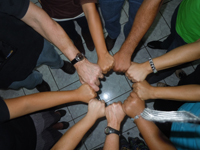 We envision a Yearly Meeting made up of strong, vital monthly meetings.
Gifts from Meetings

WHAT YOUR COVENANT
DONATIONS SUPPORT

ABOUT COVENANTS

Access to funds, programs, and other aids to meeting life.

Programs for deepening worship, vocal ministry, and the spiritual lives of members.

Spark, InfoShare, and other publications, Yearly Meeting sessions, and more.

Curricula, organizational aids, and resources for families.

Programs for youth.

Programs for Young Adults.

Nurturing our ties to FGC, FUM, FCNL, AFSC, and other Quaker organizations.

Spark, InfoShare, the website, press releases, and other communications.

Aids for local meeting outreach and NYYM programs for advancing the Quaker Way.

Support for the witness ministries of individual Friends and of local meetings, and the work of the Yearly Meeting's witness committees.

The NYYM Budget

The 2015 Budget (requires login)

2014 Treasurer's Report—Revenues & Expenditures for the year (requires login)

Program Costs—A detailed breakdown of how the budget is spent, organized by Yearly Meeting programs and initiatives (requires login>

The budget process and other useful information about Covenant Giving and NYYM finances.