2017 Ireland JYM Trip Epistle
To Friends everywhere:
On April 9th, at the invitation of Irish young Friends, a group of four high school Friends from meetings throughout New York Yearly Meeting journeyed to Ireland to attend the Irish Junior Yearly Meeting. We went expecting to learn about their process and hoping to have an opportunity to see the gorgeous sights of Ireland. We were not disappointed.
Carolyn Ritchie, Youth Coordinator for Ireland Yearly Meeting, met us at the Dublin airport bright and early Monday morning. With Carolyn as our guide, we saw many historical sights, such as Malahide Castle, Dunluce Castle, Carrick-a-Rede, Trinity College and the cities of Dublin and Belfast. In the face of a stiff wind, we were led by Friends John and Helen Shackleton, up a trail in the Glendalough Valley in the Wicklow Mountains. These experiences gave us a knowledge of Irish history that we did not know before. It was intriguing to find that Quakers have played an integral role in the lives of many Catholic and Protestant families in Belfast, a city divided by religious conflict. Through discussions with Carolyn, we discovered the powerful impact Quakers have had in prisons, all throughout Ireland. We also had the opportunity to speak with other Irish Friends, who we stayed with for the first two nights. We discussed current Irish and US politics and economics as well as learning more about Irish life. We found our hosts to be welcoming and engaging, happy to share their opinions and genuinely interested in ours.
For much of our trip, we had the privilege of participating in the Irish JYM, at the Moyallon Centre in Portadown, Northern Ireland. Quaker Youth all over Ireland, aged 14-18, came together to participate. The theme of IJYM this year was a Quaker perspective on leadership particularly in light of current events in the world. The program was run by a committee of youth. We were struck by their involvement in planning the sessions and activities throughout the week. There was an amazing evenness and balance to the group activities creating a sense of cohesion and connection. Everyone felt very at home and welcomed, especially those of us new to the group.
It was interesting for us to see the smoothness and ease of the multiple business meetings held.
Quaker Business Meeting, conducted in an efficient, yet respectful and helpful manner is one of the practices we would like to use more effectively in our own NYYM JYM. We were also inspired by informative and enjoyable sessions, including an activity called "Quakers in Space," and a panel made up of three influential Quaker Leaders. We played some new-to-us games that we hope to bring back to NYYM JYM, such as Airports, Whomp'em, Empires and Wild Man.
Participating in IJYM with the Irish young friends made us realize how much we get out of our time together with other young friends. We were glad to see that Quaker youth in other countries have this great opportunity, just as we have at Powell House and NYYM JYM. IJYM also helped us see that the role of a clerk is to benefit and guide their community not govern it. More broadly, being a Quaker leader means taking action when you feel called to do so and talking with other people about your concerns and working to form solutions together.
Please also read the Ireland JYM epistle. Our kids very much felt a part of the group and that this epistle reflects their experience of IJYM.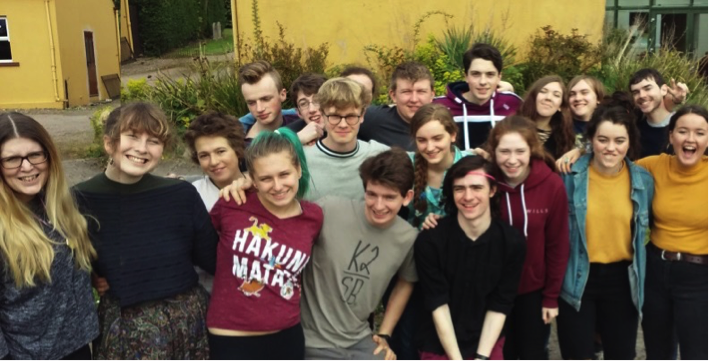 Photo caption: New York Yearly Meeting high schoolers Abigail Byrtus, Zachary Clausen, Lucy Jackson and Matthew Lindop with other Friends at Ireland Junior Yearly Meeting. Chris DeRoller (Powell House Youth Program Director) and Carolyn Ritchie (The Youth Coordinator for Ireland Yearly Meeting) led the trip.