QuED Days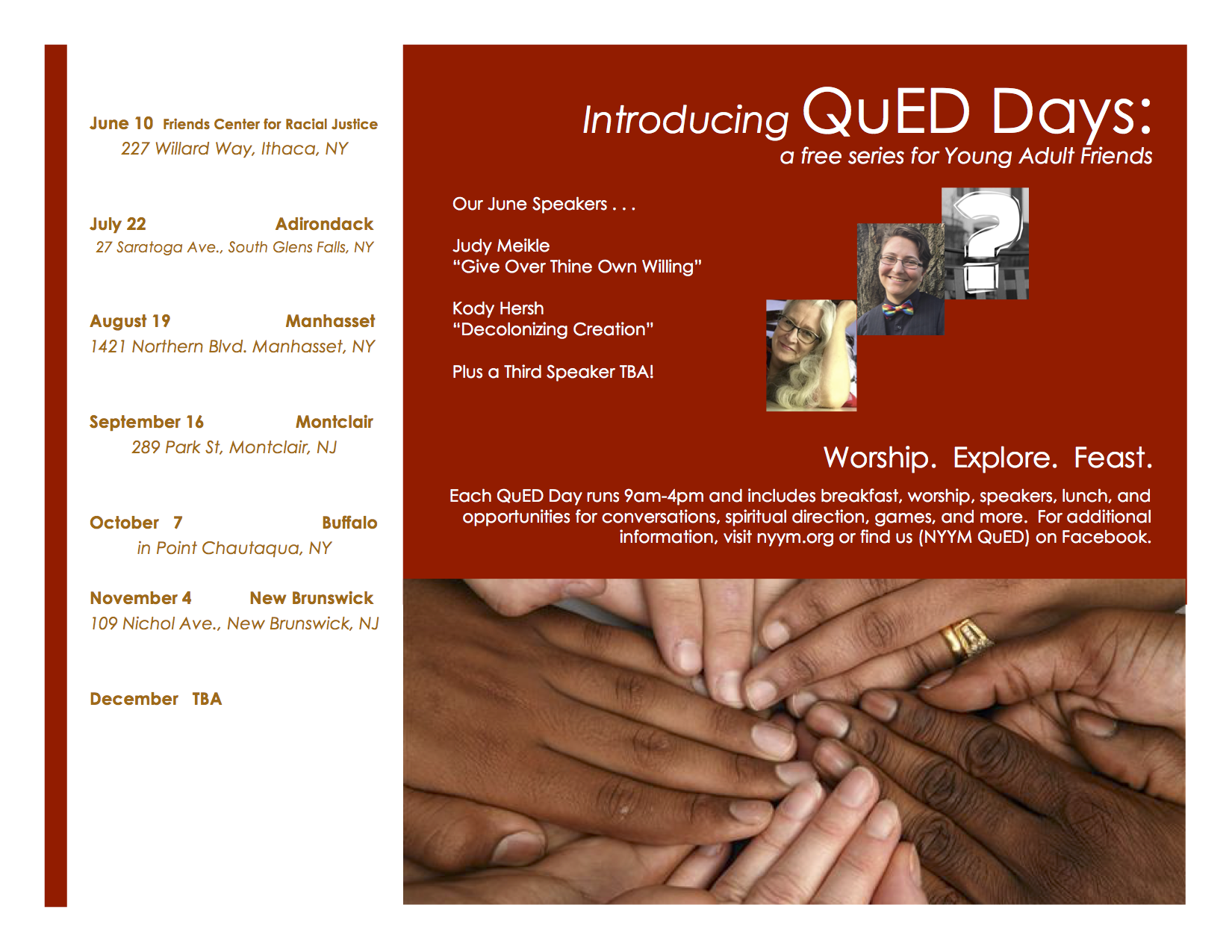 Quicklinks
Facebook page and videos archive
Approximate schedule for the day
Introduction to Quaker Exploration and Discourse Days
Register here for the March QuED Day so we can feed you! QuED Days begin at 9:00am with breakfast. Lunch is also included. The day finishes at 4:00pm.
QuED Days are designed as a series of opportunities for the sharing of Spirit-led ministry, along with the chance for informal connection, conversation, and fellowship.
All Young Adult Friends (ages 18-35) are invited to participate in QuED Days, and members and attenders of the host meetings are invited to participate as well. Here's how it works:
How it works. Each month in 2017, there will be one Saturday QuED event, each hosted by a monthly meeting in a different part of New York Yearly Meeting. The morning will include breakfast, worship, and several twenty-minute talks given by invited speakers. The afternoon will include lunch, very lightly structured conversation opportunities, and sometimes other things—workshops, spiritual direction, games, music, and so forth. (See the daily schedule below.) The morning talks will be streamed live on Facebook live when wifi is available and recorded for later posting online. See below for the archive of these videos.
Facebook page and videos
Find us on Facebook! https://www.facebook.com/nyymqued/.
View videos of past QuED Days:
2017 Program Schedule
| | |
| --- | --- |
| March 4 | Bulls Head-Oswego |
| | 1323 Bulls Head Rd., Clinton Corners, NY |
| | Speakers: Abby Burford, Anthony Christopher-Smith, Anita Paul |
| April 8 | Purchase/Scarsdale |
| | 4455 Purchase St., West Harrison, NY |
| May 6 | Mohawk Valley |
| | 2981 Austin Rd., Clinton, NY |
| June 10 | Friends Center for Racial Justice |
| | 227 Willard Way, Ithaca, NY |
| July 22 | Adirondack |
| | 27 Saratoga Ave., South Glens Falls, NY |
| August 19 | Manhasset |
| | 1421 Northern Blvd., Manhasset, NY |
| September 16 | Montclair |
| | 289 Park St., Montclair, NJ |
| October 7 | Buffalo |
| | in Point Chautaqua, NY |
| November 4 | New Brunswick |
| | 109 Nichol Ave., New Brunswick, NJ |
| December | TBA |
Approximate QuED Day Schedule
| | |
| --- | --- |
| 9:00 am | Light breakfast provided by host meeting, informal conversation |
| 10:00 | Worship |
| 10:30 | First speaker |
| 10:50 | Second speaker |
| 11:15 | Break |
| 11:30 | Third speaker |
| 11:50 | Questions/group discussion |
| 12:30 pm | Lunch, sign-ups for Opportunities with Friends |
| 1:30 | Opportunities with Friends (sharing coffee/tea, long walks, spiritual direction, small workshops, community building games, etc. – some of these things in groups, some one-on-one) |
| 3:30 | Closing gathering |
| 4:00 | End of day |