InfoShare, June 2013
InfoShare
N e w Y o r k Y e a r l y M e e t i n g
R e l i g i o u s S o c i e t y o f F r i e n d s
Volume 12
June 2013
Number 3
Editor: Steven Davison
---
Contents
Summer Sessions
Saturday
Monday
Tuesday
Wednesday
Thursday
Friday
Throughout the week
To be determined
Interest Groups at Summer Sessions
We will publish a full list of the interest groups at Summer Sessions with descriptions in the first week of July, on its own web page. We will notify Friends of its publication by email.
Meeting News
Yearly Meeting News
News of Wider Friends
Jobs
Travel Schedule
---
Summer Sessions
July 21–27, 2013 ⋅ Silver Bay, New York
Saturday
Old Chatham Meeting Dedication and Open House
Old Chatham Quaker Meeting is having a Dedication and Open House in our new meetinghouse on Saturday, July 20, 2013, from 2:00 p.m. to 5:00 p.m. We are eager to celebrate with Friends, and thank them for the work they have done and the contributions they have made, without which we would not have been able to build our meetinghouse. We hope you can join us on your way to Silver Bay. The dedication will occur at 3:00 p.m., with open house and refreshments before and afterward. Our meetinghouse is located across from Powell House on County Route 13, in Old Chatham, N.Y. For questions please contact Bob Elmendorf poetapoetus@taconic.net, 518-766-2992. Our website is www.oldchathamquakers.org.
Monday
Plenary Speaker, Summer Sessions 2013:
Freida J. Jacques, Onondaga Nation, Haudenosaunee
Note that we had previously and mistakenly published Wendy Gonyea as the plenary speaker at Summer Sessions.
We are pleased to inform you that this year's Summer Sessions will have a special guest in our attendance. Following last year's plenary meeting, at which a Minute was passed repudiating the Doctrine of Discovery, we are honored to have a prominent Native American to speak on this and other current topics of interest, including the Two Row Wampum Renewal Campaign, which will take place along the Hudson Region at the end of July. Mrs. Jacques will be with us for several days and will also partake in other meetings, including the Indian Affairs Committee meeting and with our young people.
Freida J. Jacques, Onondaga, whose native name is Whatwehni:neh is a resident of the Onondaga Nation. She is presently employed at the Onondaga Nation School as a Home/School Liaison. She has served as a bridge between her culture and the many educational institutions in Central New York. Peace and healing are subjects she is passionate about. She has been a leader in her Nation for over 30 years, a Clanmother of the Turtle Clan. She has three published essays: "Discipline of the Good Mind," Northeast Indian Quarterly, Cornell University Summer 1991; "Use the Good Mind," an interview, in Winds of Change, Spring 1997; and "Beyond Healing: a Gift to the World," in Indian Country Today newspaper, April 5, 2000.
AFSC Dinner Gathering at Summer Sessions
The American Friends Service Committee (Northeast Region) will hold a dinner gathering at New York Yearly Meeting's Summer Sessions at Silver Bay. The gathering will take place on Monday, July 22, from 5:30-6:30 pm in the rear of Gullen Lounge. All are welcome to share a meal and discuss how AFSC is putting Quaker values into action through its programs. Regional Director Keith Harvey will reflect on the first year of the reconfigured Northeast region and the program work taking place in the Cambridge, New York, Newark, and Pittsburgh areas.
Family Conversations at Summer Sessions
This year during Summer Sessions at Silver Bay, families will have an opportunity to meet others with children in the same age group. During the Rest and Relaxation times, family groups—parents and children—will have a chance to meet and get to know each other through facilitated conversation.
Three sessions are scheduled: one for families with pre-schoolers, one for families with elementary-aged children, and one for families with teens. Family groups with children in more than one age group may participate in one or more groups of their choice. We hope to have some teens come to the sessions for younger families so that if—when?—little ones get restless one of the teens could distract them in the same space. Each group will have a facilitator. Each group will also have one or two elders to "hold" the group, and a representative from Conflict Transformation Committee (CTC) and Priorities Working Group (PWG) to listen and perhaps take away some ideas for ways that our monthly meetings and the Yearly Meeting might support families.
Pre-schoolers and their families will meet on Monday from 4:00 pm to 5:15 pm. Families with elementary school-aged children will meet on Tuesday from 4:00 pm to 5:30 pm. No R&R is scheduled on Wednesday, so teens will meet on Thursday afternoon from 4:00 pm to 5:30 pm. These sessions will take place in the Paine Rotunda. We hope these events will help families get to know each other, and that the sharing will be both informative and fun.
Tuesday
Meetings for Discernment—An Invitation
Please join other New York Yearly Meeting Friends in our continuing experiment, begun in 2008, to listen for the word and work of the Spirit in the life of our Yearly Meeting. Two sessions will be held, from 10:15–12:00 and from 1:45–4:00, on Tuesday, July 24, 2013 at Silver Bay, Lake George. You must register for Yearly Meeting Sessions to attend (details at www.nyym.org).
We will consider the following queries at both the morning and afternoon sessions. Please let them begin to work in you even as you read them now.
What does it mean to be faithful as individuals? As a gathered body?
What does faithfulness mean for a meeting?
Your monthly meeting has (hopefully) appointed one or two Friends to attend Meetings for Discernment, but they can only bring part of the picture, so all are encouraged to bring their light to the gathering. Friends in your meeting may find it fruitful to reflect on these queries together, but please come with open hearts. Listen and speak from the Spirit, not from prepared messages.
"Over time, I feel that I have gotten to know people well, only from sitting with them and maybe hearing their messages."
For those who wish to reflect on the day with some of the elders who have held us in prayer, there will be a concluding discussion session at 7:45.
"Holding the group in prayer has been an amazing experience for me. I feel that it is more possible to pray there, in that group, than anywhere else I have ever been."
Funds are available to reimburse up to $75 in travel/accommodation costs for Friends appointed by their meetings to the Meeting for Discernment and for Friends invited by the steering committee to serve the body as elders or recorders. Requests above $75 may be considered in exceptional circumstances. Please contact Lucinda Antrim at lucindaantrim@verizon.net for the necessary forms or with any questions. And please come!
"The Spirit guides in ways seen and unseen. Integrity removes the artifice that we create and removes the inhibitions that lie in front of us, allowing us to become closer to the Spirit. We are stripped of what binds us and can then be a vessel for the messages of the Spirit."
Family Conversations at Summer Sessions
The session for families with elementary school-aged children meets today. See above for a fuller description of this program.
Thursday
Family Conversations at Summer Sessions
The session for families with teens meets today. See above for a fuller description of this program.
Friday
Tagless Tag Sale at Summer Sessions
Yes, there will be a Tagless Tag Sale at Silver Bay during Summer Sessions. It will be held during the Fun(d) Fair on Friday, July 26, from 1:45–3:45 p.m. If you have sale items (new or used items in good shape) to donate, please bring them to Silver Bay.
Treasures that you are ready to pass on sell well, as do clothing, jewelry, small electronics, household items, and things for children. The Tagless Tag Sale benefits the Sharing Fund and Powell House. Tax-deduction receipts for in-kind charitable contributions will be available upon request.
Throughout the Week
Healing Work at Summer Sessions
This year at Summer Sessions, Sproul Pavilion will once again have regularly scheduled hours for healing work. The Healing Center is under the care of the Committee on Worship at Yearly Meeting Sessions. Ann Davidson is clerk.
We are calling for Friends who work in the healing arts or who are interested in helping with healing work. We are looking for volunteers who would offer their skills in the healing arts or support the work by greeting and scheduling. Skills can include energy work (Healing Touch, Reiki, Therapeutic Touch, etc.), massage, Rolfing, craniosacral, spiritual counseling/direction, or other areas of healing work. Practitioner volunteers should have training with qualifications or experience relevant to their practice. Friends who are interested or perhaps feeling "called" to the work are welcome to "buddy" with other practitioners, as possible. We will need people to meet and greet and help match those desiring work with the practitioners available. This year we will need additional coordinators to help out as well. Those wishing to hold the space in prayer are welcome indeed. It is yet another extension of worship, after all!
Please contact Buffy Curtis, havehelpinghands@gmail.com, to offer your assistance, make suggestions, or let us know what else you need. We will meet with volunteers on Sunday night of Silver Bay sessions to organize and clarify details. We look forward to hearing from you. Look for us at the Healing Center.
Story Telling at Summer Sessions
Everyone knows a good story!
Would you please consider sharing a personal story or a particular short book that you know during Story Time. We meet on the front lawn in the evenings after dinner at Silver Bay.
All Friends young and a bit older are invited to listen and share stories. Stories shared during this intergenerational event need to be appropriate for all ages.
To volunteer or for more information please contact. Kate Lawson. Her contact information is in the Yearbook.
Fifty Dollars for Every NYYM Library
At the New York Yearly Meeting Summer Sessions taking place at Silver Bay, NY, the Mosher Fund Book table will be located in the central section of the Inn lobby. We are offering $50.00 worth of books for your meeting library. Be sure to assign someone to pick up your books. If you have suggestions for books or can help with checking in our books on Sunday at 1 pm, please contact Ruth Ralston. Her contact information is in the Yearbook.
Date To be Determined
Activities of the Clerking Task Group at Summer Sessions
The New York Yearly Meeting Clerking Task Group is planning a short series of initial activities to be held during the 2013 Summer Sessions. These activities are designed to introduce and begin implementing a program of support that will help clerks to improve the effectiveness of their committees and achieve their objectives. While we may in the future extend similar kinds of support to clerks and committees working in other Friends contexts, such as monthly meetings, we are focusing initially on the clerks of NYYM committees and task groups.
The NYYM Clerking Task Group is planning the following:
Open gatherings, formal or informal, in which self-selected groups meet at specified times and places with Steve Ross, Lisa Gasstrom, and Ernie Buscemi for general discussion, coaching, and resource sharing on the topic of clerking and committee roles.
By-appointment "office hours," in which individuals who are currently serving or likely to serve as Yearly Meeting committee clerks can meet with these individuals. The purpose of these sessions is to confidentially discuss either their challenges in clerking or serving on a particular committee, and receive some measure of consultation and coaching on how to strengthen or improve the situation.
An interest group on the basic roles of and common problems faced by NYYM committee clerks, focused on meeting both the committee's internally-driven objectives and the needs and expectations of the wider NYYM organization. Facilitated by Steve Ross, and possibly joined by a member of the staff who is familiar with the administrative requirements of NYYM.
Interest Groups at Summer Sessions
The following are the Interest Groups planned for Summer Sessions that have been passed on to the office by date of publication. Look for a full listing on its own web page in the beginning of July. We will send out a notice of its publication by email.
Two ARCH Interest Groups
Get Your Answers Here
Everyone is invited to the Get Your Answers Here Interest Group being held during Summer Sessions at Silver Bay, NY on June 23 at 7:45pm. Come with your aging-related questions for yourself, your Meeting, your family. If we don't know the answer we will find out for you. Medicare, Medicaid, driving, affordable housing, moving, caregiving, etc. Facilitated by our Aging Resources Consultation Coordinator, Anita Paul. Anita's contact information is in the Yearbook.
Shared Housing
Everyone is invited to the Shared Housing Interest Group being held during Summer Sessions at Silver Bay, NY on Thursday, June 24 at 1:45pm. Explore the many ways to build community and share resources through shared housing. This session will be led by gerontologist Barbara Spring, who is one of our Aging Resources Consultation Coordinators. It will focus on the variety of senior housing options for sharing, but will consider intergenerational ideas and extended family options. Bring your ideas and experiences to share. Barbara's contact information is in the Yearbook.
Two Indian Affaris Committee Interest Groups
How Can We Meet our Native American Neighbors with Respect and Honor?
On Tuesday evening, July 24, Indian Affairs Committee will sponsor an interest group that will review briefly the Doctrine of Discovery, which New York Yearly Meeting publicly repudiated in a minute approved at Fall Sessions 2012. We also will bring forward the significance of the UN Declaration of the Rights of Indigenous Peoples and share the importance of the current Two-Row Wampum Renewal Campaign. This interest group will explore ways we can work to dismantle the Doctrine of Discovery and respect and honor our Native American neighbors. Facilitated by members of the Committee.
Native Philosophy and Quakerism
On Wednesday afternoon, July 25, Rebekah Tanner, a Friend of Wyandotte descent, will lead an interest group focusing on what Native philosophy has to do with Quakerism. Friends testimonies of simplicity, peace, integrity, community, and equality are essential to Quakerism. How do these testimonies resonate with Native American philosophy and where do we find differences? Where they are different, can we find common ground? Given the warrior tradition of many Native American Nations and the colonial legacy of North America, there will be challenges to face. We will explore what we might learn from our Native American neighbors as we examine these issues.
A Great People to Be Gathered:
What in the World is Going on with FUM?
You are partners in the global work and witness of Quakers through Friends United Meeting. Come get an update on the work that is currently in progress and hear more about emerging plans arising out of last fall's Day of Discernment. Facilitated by Colin Saxton, General Secretary of Friends United Meeting.
New Group Games and Children's Curriculum
from Right Sharing of World Resources
Right Sharing of World Resources works on a principle of partnership. It needs the support of Friends in monthly meetings, and so it has thought about how it can help a monthly meeting or church. One way is to provide materials for First Day Schools that are flexible enough for small meetings whose children attend irregularly, and for those with no First Day School who want to set up a "First Day School in a box" for when kids show up unexpectedly. We know that when a family first visits a monthly meeting, they are far more likely to return if activities are available for their children.
In fact, RSWR has recently made available a game kit, which is a collection of three games in a box, and a children's curriculum based in part on those games. The games and curriculum give First Day School teachers (and others working with young people) a good way to bring into focus the glaring inequities in the distribution of the world's wealth. They provide a starting point for conversation, or even just something to do on those Sundays when someone has to jump in and take care of the kids with little or no advance warning.
This interest group will introduce those materials. Facilitated by Mary Eagleson.
Spiritual Ecology—Answering That of God in My Bioregion
How do you actually "answer that of God in all creation"? What makes a place sacred? For Indigenous Peoples, their place really matters in their religious life. Not so for Christians or Quakers. We'll look critically at the universalist, "all creation" emphasis in our environmentalist tradition. We'll look at how Jesus used the landscape of Palestine in his personal spiritual practice and the role that Palestine's ecology played in the origins of the Judao-Christian tradition. We'll explore what "spiritual ecology", a land-based spirituality, and a religious culture of sacred place might mean for us Friends today, and what a bioregional New York Yearly Meeting might look like. Facilitated by Steven Davison.
Teaching as a Ministry
This interest group is for all Friends who identify as educators. Whether you work in a formal school setting or elsewhere, as a teacher, an administrator, or a counselor, with toddlers, children, teens, or adults, this query-based discussion is for you. Together, we'll explore the ways in which Friends testimonies and practices can enrich and advise our work as educators. Facilitated by Emily Provance.
Clerking Yearly Meeting Committees
An interest group on the basic roles of and common problems faced by NYYM committee clerks, focused on meeting both the committee's internally-driven objectives and the needs and expectations of the wider NYYM organization. Facilitated by Steve Ross, and possibly joined by a member of the staff who is familiar with the administrative requirements of NYYM.
Awakening the Dreamer Symposium
Created in collaboration with a remarkable array of scientists, leaders of indigenous peoples, spiritual and political leaders, environmental advocates and others, the Awakening the Dreamer Symposium (Tuesday evening) explores the current state of our world from a new perspective and connects participants emotionally with a powerful global movement to reclaim our future. Through inspiring multimedia presentations, personal reflection, and group interactions, the Symposium empowers participants to take a stand and become agents of change, to create a world that is environmentally sustainable, socially just, and spiritually fulfilling.
The Symposium arose in the mid-1990s when elders of an indigenous people, the Achuar, deep in the Amazon region of Ecuador, became concerned over the threat to their rainforest home by large corporations, and sought the partnership of committed individuals living in the modern world. Out of this request came first the Pachamama Alliance, and then its message: the Awakening the Dreamer Symposium, so called because the Achuar understood the need to "change the dream of the north"—the dream of material affluence. This dream is now causing environmental havoc, social and economic injustice, and spiritual malaise around the world. Pachamama is a Quechua word referring to the sacred presence of Earth, the sky, the universe, and all time.
The Symposium uses four questions to invite participants to discern how they could make a difference. Where Are We? looks at the state of the world today. How Did We Get Here? traces the root causes that have led to our current imbalance. What's Possible for the Future? helps participants discover a new way of relating to others and the natural world, and looks at the powerful movement for change emerging around the world. Where Do We Go from Here? asks participants to consider their role in bringing about change, individually and by working with others in their families and communities.
Friend's testimonies are implicit in every aspect of the Symposium. This is what drew Reb MacKenzie (Claremont, NEYM), and Jean and Fred Doneit (Poughkeepsie) to become facilitators of this program. The Symposium is suitable for high school youth through adults and has a lively and attractive multi-cultural flavor. If you are ready to be deeply inspired, or called to action with a community of committed Friends, please join us in exploring the most critical concerns of our times. Facilitated by Reb MacKenzie, and Jean and Fred Doneit.
Empower Your Meeting
Learn about Friends General Conference Programs & Resources for Meetings
Hear an overview of FGC programs and resources for meetings followed by more in-depth presentations on three of FGC's newest and/or most popular offerings: Quaker Quest, The New Meetings Project, and The Quaker Cloud. Quaker Quest is a program designed to help your meeting deepen the relationship among your existing members and attenders while reaching out to seekers in your community. The New Meetings Project exists to help Quakers who feel led to establish new worship groups do so with the help of their Yearly Meeting, other local meetings, and the support and resources of FGC. The Quaker Cloud is an online toolbox to help meetings create and store minutes, establish an effective website, and build an easily updated member directory. Facilitated by Barry Crossno, General Secretary FGC General Secretary, and Helen Garay Toppins, Quaker Quest Facilitator.
Meeting News
Help Old Chatham Meeting Dedicate its New Meetinghouse
July 20, 2013
Old Chatham Meeting is holding a Dedication and Open House on Saturday, July 20, 2013, from 2:00 to 5:00 pm. Did you see the notice above on this?
Binghamton Community Friends Meeting Jointly Confers Peacemaker Award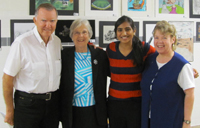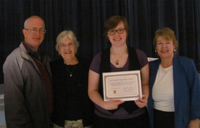 Janki Patel of Chenango Valley High School and Haley Sterling of Chenango Forks High School won the second annual Stu Naismith Memorial Peacemaker Awards. The two $350 scholarships were given on June 3 and 5, jointly by the Binghamton Community Friends Meeting and the Stu Naismith Chapter of Veterans for Peace, in memory of Stuart Naismith (1927-2011), a World War II veteran and dedicated campaigner for peace, who taught in both school districts.
Haley and Janki earned the awards by working for peace in everyday life, preparing for further education, and writing essays on peacemaking. The picture to the left shows Jack Gilroy of Veterans for Peace, Peggy Naismith, Janki Patel, and Joyce Thomas of the Quaker Meeting. The picture to the right shows Jim Clune of Veterans for Peace, Peggy Naismith, Haley Sterling, and Joyce Thomas.
Yearly Meeting News
Priorities Working Group Report
The Priorities Working Group has been visiting monthly and regional meetings throughout the Yearly Meeting for two years, now, "to gather the sense of the monthly and regional meetings and of individual Friends as to how the Spirit is at work among us and where it is leading us." Their reports to Spring Sessions 2013 and Fall Sessions 2012 are on the Yearly Meeting website.
General Secretary Christopher Sammond Returns from his Sabbatical
Christopher Sammond, our General Secretary, has been on sabbatical since February 15, and will be back with us on June 18. We expect that this has been a time of spiritual renewal for him, and we hope to have a report from him about his experience at Summer Sessions. We look forward to having him among us again, sharing his gifts and support for all of us.
Supervisory Committee for the General Secretary
Peter Baily, Spee Braun, Keith Johnson, Karen Way, Deborah Wood
5th Annual Northeastern Christ-Centered Friends Gathering
Powell House, Labor Day weekend (August 30–September 2)

"Follow Me"—Exploring Radical Discipleship
This fifth annual gathering of Christ-centered Friends from the Northeast at Powell House will explore the radical discipleship among those early "friends" and how we might better live as disciples of Jesus.
Fees: $200. For campers on the grounds: $100. 10% discount for all first time attenders to Powell House conferences.
Efforts are being made to help make attendance affordable to anyone who wishes to be present. Donations to a scholarship fund may be sent to Powell House, attn: Ann Davidson, with "Labor Day Weekend" on the memo line.
For more information contact Connie Bair-Thompson at bairthompson@charter.net. To register for this or any Powell House conference, go to powellhouse.org/ or call PoHo at (518) 794-8811, Wednesday through Saturday, 9 AM to 5 PM. PoHo's email address is info@powellhouse.org. Click here to download a flyer of the event.
News of Wider Friends
The Quaker Cloud is Now Available from Friends General Conference
Has your meeting struggled with technology and the web?
Does your meeting have any of these problems?
Your meeting wants to get on the Internet, but doesn't know where to start.
No one in your meeting remembers how to update the current website.
The computer that once held your minutes has been recycled.
You are an IT professional and you understand the enormous undertaking involved in maintaining a professional, secure website.
The Quaker Cloud is ready for you.
The Quaker Cloud is a web toolkit supporting Quaker community and process built by FGC for Quakers. It offers your meeting an easy-to-use website with powerful and flexible privacy settings, as well as a minute manager to store, search and share your minutes.
Join the over 30 meetings currently using the Cloud, including quarterly and yearly meetings!
The Quaker Cloud is now available to any interested meeting. To learn more about the Quaker Cloud, visit quakercloud.org or email Erin Mullaney, FGC's Communications and Cloud Support Associate.
2014 Quaker Youth Pilgrimage to Bolivia & Peru
Cradles of Andean Quakerism
The Quaker Youth Pilgrimage Program Committee is deep in the planning of a 2014 experience to be hosted by Andean Friends in Peru and Bolivia. We are working carefully and prayerfully to construct the first QYP experience to be held entirely in evangelical yearly meetings, as well as the first Quaker Youth Pilgrimage in South America.
Application forms are now available for pilgrim and leader applicants:
Click here for pilgrim application. Apply by December 1, 2013
Click here for leader application. Apply by November 15, 2013.
This is what we can tell you at this time:
The pilgrimage will begin in Southwestern Peru and end east of the Andes in Santa Cruz, Bolivia.
The exact dates are still under discussion and will be announced soon. The pilgrimage is one month long and will likely be around mid-July to mid-August of 2014.
The total number of pilgrims will be limited to the customary 28, with an expanded number of leaders (5-6) who will need to share the added responsibilities of interpretation and translation.
The age range will be the traditional ages for the FWCC pilgrimage, 16-18 years of age at the time of the program.
The mix of pilgrims will be roughly nine from Perú and Bolivia, nine from other yearly meetings in the Section of the Americas, and nine from the Europe & Middle East Section.
Spanish proficiency is recommended but not required.
We will try to hold the cost of the pilgrimage to within the norms of past experiences.
Please refer to this page regularly as updates and registration information will be posted here as they become available.
Click here for general information on the FWCC Quaker Youth Pilgrimage program.
Questions? Contact us.
Jobs
College Principal Position

Friends Theological College, Kaimosi, Kenya
Friends United Meeting is launching a search for the next Principal to serve and lead Friends Theological College in Kaimosi, Kenya. Our current Principal, Dr. Ann Riggs, will be concluding her service with FUM in the summer of 2014. Please click on the following links for:
Position announcement
Position job description
Corporate Social Responsibility (CSR) Jobs
Globethics.net now offers a new jobs portal, CSR Jobs, with 300 to 500 jobs in the field of corporate social responsibility (CSR), and such related fields as the environment and ethics, from all over the world, updated daily and searchable by categories. You can subscribe to email alerts and you can add jobs.
Travel Schedules
Travel Calendar: Gabrielle Savory Bailey
Young Adult Field Secretary

June to November, 2013
June 9
Gathering of NJ Young Adult Friends and Families, Gabi's home, Denville, NJ
June 22
Gathering of NJ Young Adult Friends and Families, at Gabi's home, Denville, NJ
June 23
Wilton Meeting
June 29
Easton Meeting Family Day
July 21
Adirondack Meeting
July 21–27
NYYM Summer Sessions, Silver Bay, NY
September 20–22
FUM Conference: Bridging Gaps
A retreat for those who care for Youth and Young Adults. Richmond, Indiana. I will be facilitating a workshop, and participating in a panel discussion.
November 1–3
Co-facilitating a Family weekend at Powell House on Stewardship: loving care of ourselves, our families, and our communities.
Travel Calendar: Christopher Sammond
General Secretary

July to September, 2013
July
| | |
| --- | --- |
| 2 | Meet with outgoing Pastor of Farmington MM, Ithaca, NY |
| 12–13 | Visit Saranac Lake MM, Saranac Lake, NY |
| 13–15 | Visit St Lawrence Valley Friends Meeting, Potsdam, NY |
| 20 | Speak at Old Chatham MM's Open House, Old Chatham, NY |
| 21 | Visit Ticonderoga Worship Group, Ticonderoga, NY |
August
| | |
| --- | --- |
| 4 | Visit Brooktondale Indulged Meeting, Caroline, NY |
| 30–31 | Help facilitate Northeast Christ-Centered Friends Gathering, Powell House, Old Chatham, NY |
September
| | |
| --- | --- |
| 1–2 | Help Facilitate Northeast Christ-Centered Friends Gathering, Powell House, Old Chatham, NY |
| 13–14 | Help support the Advancement Consultation on Prophetic Ministry and Eldering, Powell House, Old Chatham, NY |
| 16–18 | Attend Superintendents and Secretaries Retreat, Wichita, KS |
| 22 | Visit Purchase MM, Purchase, NY |
Travel Calendar: Barbara Spring,
ARCH Coordinator
June 23 — Bulls Head-Oswego Meeting.
June 27 — Tryon Worship Group.
Travel Calendar: Helen Garay Toppins,
Associate Secretary

June to September, 2013
| | |
| --- | --- |
| June 8 | Green Haven Prison Quarterly Meeting, Stormville, NY |
| June 10 | Women's Worship Group, 15th Street Meeting, NY, NY |
| June 22 | Woodbourne Prison Protestant Day, Woodbourne, NY |
| June 23 | Flushing Meeting, Flushing, NY, and presenting at Queens Historical Society |
| June 30–July 5 | Co-facilitating a Quaker Quest presentation at Friends General Conference Gathering, Greeley, Colorado |
| July 21–27 | New York Yearly Meeting Summer Sessions, Silver Bay, NY |
| September 20–21 | Co-facilitating Quaker Quest at 15th Street Meeting, NY, NY |
Schedule of Upcoming Quarterly, Half-Yearly,
and Regional Meetings
Meeting
Date
Location
Farmington-Scipio
September 21, 2013
Farmington
Long Island
July 7
Conscience Bay
New York
July 13
Friends Cemetery, Brooklyn
Northeastern
October 27, 2013
Saranac Lake
Purchase
November 3, 2013
TBD
Shrewsbury & Plainfield
September 21, 2013
Manasquan