InfoShare, April 2013
InfoShare
N e w Y o r k Y e a r l y M e e t i n g
R e l i g i o u s S o c i e t y o f F r i e n d s
Volume 12
April 2013
Number 2
Editor: Steven Davison
---
Contents
Upcoming Events
NYYM Facebook Page
The Yearly Meeting now has a Facebook page (www.facebook.com/NewYorkYearlyMeeting). Please Like us! Otherwise, you won't receive the material we post.
Spark Theme Articles
Join the conversation!
We are now publishing the articles from Spark that speak to the issue's theme on their own web pages with a comment section, like a blog. This means that you can comment on an article and respond to other readers' comments, much like the Forum section of Friends Journal, except in real time.
Instructions on how to do this appear at the bottom of each article. We look forward to hearing from you.
April
May
June
July
News
Schedules
---
Announcements & Upcoming Events
Financial Assistance Available for Summer Sessions
The Sessions Committee wants Friends to know that financial assistance will be available for Summer Sessions. Friends requesting assistance should first ask their monthly meeting and quarterly/regional meetings for support. Friends will be asked to send confirmation from the meeting about the amount that has been asked for and granted—even if it is zero. This process can be as simple as an e-mail or note from your meeting's clerk, or a more formal letter. No request for funds will be processed, and no funds will be disbursed, without this communication from your meeting. Friends may want to approach your meetings now so that you are ready to ask for financial assistance when you fill out that section on your registration form in May—registration forms will be available in the May Spark. If you have questions, please contact the NYYM office at office@nyym.org or call Helen Garay Toppins, Associate Secretary, at 212-673-5750.
---
Scarsdale Meeting is Holding Three Quaker Quest Public Sessions,
April 3, 10, and 17
Scarsdale Meeting has completed its first set of three Quaker Quest public sessions, and will hold the second set on April 3, 10 and 17. These are Wednesday evenings. The programs will start with refreshments at 6:30 pm; the talks are at 7:00 pm. Scarsdale especially invites Friends from other meetings who may be contemplating holding Quaker Quest sessions to come and experience the process. Scarsdale Friends would be glad to share what we've learned about doing it.
---
Spring Nightingales, May 3–5, Cattaraugus, NY
The Nightingales tradition continues this spring with beloved songs, beloved Friends (old and new), and a brand new, never-seen-before spring in the Old Order Amish country of Western New York State. Everyone is most welcome, regardless of singing ability.
On the weekend of May 3-5 the spring session of Nightingales will be held at the home of Ron Peterson in Cattaraugus, NY. The cost will continue to be $10 and a dish to pass, and our food will also include fresh spinach, parsnips, and leeks.
We can provide bed space indoors for about a dozen people. There is plenty of room for tents, and a camp just up the road could provide bunk space for another handful of Friends. Additional hospitality will be available with local Friends, who will also be helping with registration, transportation, and coordination. Fredonia Monthly Meeting will join us on First Day for meeting for worship.
Friends who wish to come from the eastern regions of NYYM will be able to take Amtrak to Buffalo or Fredonia and will be picked up at the train station. Friends may also consider carpooling, which has the advantage of additional opportunities to sing.
Register by contacting Mary Pancoast at 716-358-6406, or by email at mpancoast@msn.com. Kathy Slattery will be serving as food coordinator and can be contacted at 716-988-5157 or by email at kathyslattery62@gmail.com. Ron Peterson is serving as host and can be contacted at 716-358-6419 or by email at rmselec@netsync.net. We recommend registration by 4/15/2013 to assure the best accommodations and travel arrangements.
---
April 16 is National Health Care Decisions Day
Some ideas from Aging Resources Consultation and Help (ARCH)
National Health Care Decisions Day (NHDD) offers individual Friends and Friends Meetings a great opportunity to get organized around your health care. ARCH has some suggestions and resources to help.
ARCH has 1000 copies of the FIVE WISHES Advanced Care Directives Workbook with a special ARCH back cover to share. To see a sample go to: www.agingwithdignity.org. The forms in FIVE WISHES are suitable for all NYYM states. "April 16 - NHDD" buttons and stickers will come with your FIVE WISHES. We know it's short notice for organizing events around NHDD, but we thought we'd publish these ideas anyway. And in any event, you can use this as an opportunity to contact an ARCH Visitor about setting up an advance directive. Here are some suggestions:
Do an event on or near April 16. An idea: Albany will host an Open House on April 16 from 4-7pm with forms, refreshments, and one-on-one consultation — including a copy machine to makes enough copies AND store one at the Meeting House!
Set up a table after Meeting with forms and consultants on April 14 and 21. ACT NOW to get info into your newsletter and the space reserved.
UPDATE or DO YOUR OWN ADVANCED DIRECTIVE! Ask a medical person to be a consultant with you at your event.
Download the "Quaker Values and End-of-Life Decisions" pamphlet from www.quakeragingresources.org – look under 'Tools for Meetings.'
Call Anita (518-374-2166) or Barbara (518-441-6405) with the number of FIVE WISHES you want, any questions, and/or to schedule a complete workshop, "Quaker Values and End-of-Life Decisions," so the whole Meeting can embrace the grace of Aging with Dignity.
---
Spirited Hike With Worship
April 14, all day, Harriman State Park
For those who find time in nature spiritually renewing, Friend Robert Matson offers an opportunity for deep immersion—a hike in Harriman State Park. It's a moderately strenuous 8–10 mile trek with 1500 feet of elevation gain. Pace: 2 mph.
Route description:
The plan is to follow Harriman's Kakiat trail from end to end, east to west (7.4 mi). This will take us along the Cascade of Slid, possibly Harriman's highest waterfall. It should be high and wild and quite a sight at this time of year. If group speed and energy allows, we'll take an off-shoot over Raccoon Brook Hill for some dramatic views and then, possibly, hike by the rocky cliffs of Pine Meadow Lake (making the hike 10 miles and adding a few hills). To stay "on schedule," we'll take short breaks at viewpoints and for lunch, but then we'll take a longer break for silent worship towards the end of the day.
The route is "moderately-strenuous" and may require use of hands, feet and seat of the pants to get up and over obstacles on the trail. Obstacles may include unbridged swollen rivers (you may get wet feet), fallen trees, boulders, short cliffs and ticks with Lyme Disease. As long as you're fit and prepared, you'll have a great time on one of Harriman's nicest trails. (Note: This is an end-to-end hike and there are no "bail-out" options once we reach the half-way point.)
RSVP required: rmatson@theinnovationworks.com. Group size limited to 9 people for every 1 hike leader.
:: IMPORTANT ::
Click here to download additional information about this Hike with Worship, with fitness guidelines and a standard hiking gear list. For your safety and that of the group, read this carefully and take it seriously before you RSVP. We will travel up and back by public transit (bus).
Kakiat trail description in detail: http://scratchpad.wikia.com/wiki/Kakiat_Trail.
If you would like to volunteer to help lead so we may expand the group size or offer a more moderate hike, please contact Robert Matson, 646-233-1219, RMatson@TheInnovationWorks.com. Ideally you should have formal training in hike-leading and wilderness first aid.
For those who already know for sure they are interested in a more moderate hike, consider writing Paul van Linden-Tol at pvanlindentol@verizon.net. Paul has offered in the past to lead moderate hikes.
---
New Brunswick Meeting Hosts Seekers Meeting
New Brunswick, New Jersey, Friends invite current New York Yearly Meetings members and attenders to bring a friend or a Friend to the seekers' meeting we are holding on Sunday, April 14 at noon at 109 Nichol Avenue, New Brunswick. Seasoned Quakers, those with some exposure to the tradition, and those seeking an introduction will informally discuss Quakers' beliefs and practices. You are invited to attend meeting for worship, 10:30 – 11:30, as well. Directions may be found at www.nyym.org/newbrunswick/directiorns.htm. Street parking is available. Refreshments will be served.
---
Farmington-Scipio Spring Gathering, April 26–28,
Long Point Camp, Penn Yan, NY
Farmington-Scipio's Regional Spring Gathering will be April 26–28 at Long Point Camp on Seneca Lake in Penn Yan, New York, in the Finger Lakes Region. The theme for this year's Gathering is Living Our Faith. Philip Gulley, well-known Quaker author of such notable books as If Grace is True: Why God Will Save Everyone and If the Church Were Christian, will be the keynote speaker. He will give a plenary session on Saturday morning, April 27th, and lead a workshop later that day. He has agreed to meet with teens and young adults on Friday evening to discuss careers.
Registration forms are available on the Farmington-Scipio website here: http://www.quakerwny.com/files/SpringGathering2013registration.pdf. While the gathering is happening earlier than usual this year, there may still be space available for you to join us!
---
Memorial Service for Noel Palmer,
April 27, 15th Street Meeting House
Manhattan Meeting will be holding a Memorial Service for Noel Palmer, their former pastor, on Saturday, April 27 at 1:00 P.M. at the 15th Street Meeting House, 15 Rutherford Place, New York, NY 10003. If you are planning to attend please email office@nyym.org.
---
Race to Incarcerate: A Slide Talk and Book Release Event

Sunday, April 28, 1 pm, 15 Rutherford Place, NYC
How did America become the world leader in locking its people up? 15th Street Meeting member and graphic novelist Sabrina Jones will show slides and discuss her new book, Race to Incarcerate: A Graphic Retelling.
Based on an important book by Marc Mauer of the Sentencing Project, Sabrina's condensed and illustrated version brings his thoroughly researched analysis of the "war on drugs" and "tough on crime" policies to a new audience. Race to Incarcerate may be particularly useful to Friends concerned with prison issues and racial justice. Michelle Alexander, author of The New Jim Crow, states in its introduction: "Do not underestimate the power of the book you are holding in your hands." Books will be available.
Sabrina Jones writes and illustrates comics for social justice, including The Real Cost of Prisons, Wobblies! A Graphic History of the Industrial Workers of the World, FDR and the New Deal for Beginners, and Mixed Signals: A Counter-Recruitment Tool in Comic Book Form.
15th Street will follow up next month with a panel discussion on New York Yearly Meeting's work on prison issues, with representatives of AVP and prison worship groups.
---
Soul Festival at Manhasset Meeting, May 11
Purpose: To raise awareness of the Soul.
Why: We make decisions based on our perception of who we are and what our potential is and you can't tell a book by its cover.
How: Bring the soul and attenders into the Light through music, breaking bread, teaching, discussion, and Quaker worship.
Where: The Quaker Spirituality Center at Manhasset, 1421 Northern Blvd., Manhasset, NY.
When: May 11th, 2013, from 9:30 am to 4:30 pm.
Registration: Five-dollar registration fee if paid in advance, seven dollars at the door.
Featuring: Ken Komoski of the Peconic Executive Meeting, Lee Nichols, and L.B. Callid Keefe-Perry, member of Rochester Monthly Meeting. Among other topics, Callid publishes and speaks on theology and theopoetics. More info at CallidKeefePerry.com.
---
2013 AVP/USA National Gathering
May 24–27, Miami, Florida

Different Faces: One Voice–One Vision
Registration for the 2013 National Gathering ends April 30. This year's gathering is at Florida International University in Miami, Florida. Visit the AVP website at www.avpusa.org
---
Young Friends In Residence "Mystery Retreat"
June 7–9, Perry City Meeting House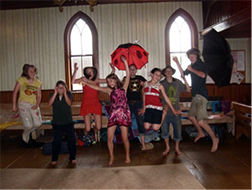 Have you missed having YFIR retreats in your life? Never been, and want to experience a community of acceptance, support, thoughtfulness, and lots of fun? Join us for a "Mystery Retreat" whose theme will be—decided by you! Send in your ideas, and our facilitator Kody Hersh will pick one as a topic! Details about this retreat will be sent out as it draws nearer. Ideas can be sent to Abe Kenmore (papfa@roadrunner.com). Open to youth ages 11-18.
---
Young Adult Friends Conference on Simplicity,
Pendle Hill, June 14–19
Continuing Rev_l_tion:
Be Brought Low and Back to the Root
All Young Adult Friends (aged 18–35) are invited to be part of an intensive six-day conference focused on the simplicity testimony. Pendle Hill's reconceived Young Adult Leadership Development program was a resounding success in 2012. The participants affirmed the value of an annual opportunity for dozens of Young Adult Friends to come together from across the nation for a powerful spiritual and educational thematic program dedicated to joyful fellowship, deep worship, and reflection on witness in the world, with practical trainings designed to challenge and transform.
Pendle Hill's six-day conference for Young Adult Friends will include inspirational speakers, workshops and trainings, worship and worship-sharing, fellowship, discernment of gifts and ministry, and service. See www.pendlehill.org/yald for updates, and contact Emily Higgs (ehiggs@pendlehill.org) with questions.
---
Two-Row Wampum Renewal Campaign—Indian Affairs, July 27
From the Indian Affairs Committee: The Two-Row Wampum Renewal Campaign and an invitation to paddle down the Hudson in a historic re-enactment of the Two-Row's message.
The Two-Row Wampum Campaign is a collaboration between the Onondaga Nation and Neighbors of the Onondaga Nation. This is a state-wide educational and advocacy initiative. The project is working to build networks that will address two inter-related issues: the devastation experienced by the Haudenosaunee (Iroquois) Nations as a result of centuries-long efforts to destroy Native peoples, and the related environmental damage that has resulted as Native stewardship for the environment was dismantled.
In 1613 a treaty was crafted between the Dutch and the Haudenosaunee that provides a vision for peaceful co-existence. This first treaty was regarded as the foundation upon which all subsequent treaties would be made. The Two-Row Treaty describes the Haudenosaunee and Europeans as traveling down the river of life in different vessels, each agreeing not to interfere in the affairs of the other or to damage our shared environment. The Haudenosaunee have worked to observe this treaty for centuries.
On July 27th of this year, we will begin the symbolic "enactment" of this treaty with a festival in Albany. The next morning, two groups will set out on a voyage to New York City: the Haudenosaunee and other Native people traveling side-by-side with allies and supporters. The end of the voyage is timed to arrive on August 9th in New York City to participate in the United Nations International Day of the World's Indigenous Peoples. So far, two NYYM Friends plan to travel the entire voyage in support of the Campaign—Buffy Curtis and Liseli Haines.
The Indian Affairs Committee and its members are participating in the building of the state-wide educational and advocacy networks. The Indian Affairs Committee was the first spiritual organization to pledge support to this effort, and individual members have been participating in planning and events in their local areas.
If you are interested in supporting this effort in your area, if you would like to make a donation, or if you are interested in paddling down the Hudson to New York City, please contact the Two Row Wampum Renewal Campaign, Neighbors of the Onondaga Nation / Syracuse Peace Council, 2013 E. Genesee St., Syracuse, NY 13210, (315) 701-1592, www.honorthetworow.org. You can also email Andy Mager at tworow@peacecouncil.net.
---
5th Annual Northeastern Christ-Centered Friends Gathering
Powell House, Labor Day weekend (August 30–September 2)

"Follow Me"—Exploring Radical Discipleship
This fifth annual gathering of Christ-centered Friends from the Northeast at Powell House will explore the radical discipleship among those early "friends" and how we might better live as disciples of Jesus.
Fees: $200. For campers on the grounds: $100. 10% discount for all first time attenders to Powell House conferences.
Efforts are being made to help make attendance affordable to anyone who wishes to be present. Donations to a scholarship fund may be sent to Powell House, attn: Ann Davidson, with "Labor Day Weekend" on the memo line.
For more information contact Connie Bair-Thompson at bairthompson@charter.net. To register for this or any Powell House conference, go to powellhouse.org/ or call PoHo at (518) 794-8811, Wednesday through Saturday, 9 AM to 5 PM. PoHo's email address is info@powellhouse.org. Click here to download a flyer of the event.
---
Bridging Gaps: For those who care for Youth and Young Adults
Young Adult Field Secretary Gabi Savory Bailey Co-facilitates A Conference

September 20–22, Quaker Hill Conference Center, Richmond, Indiana
Gabi joins David Phillips, Micah Bales, Tim Vestal, and Damon Seacott in Bridging Gaps, a conference aimed at exploring how to bridge gaps in youth programs—what does it look like to lead a sustainable lifestyle, avoiding burnout, while caring for younger Friends? The retreat is sponsored by Quaker Hill Conference Center and Friends United Meeting North American Ministries. Click the following to view a full description of "Bridging Gaps".
---
Friends General Conference Gathering
June 30–July 6, 2013, in Colorado
Join 1200 Friends from across the US and Canada for a week of worship, deepening, and fun. The theme for this year is "At the Growing Edges of our Faith." In addition to a wide choice of workshops and great programs for all ages, this year enjoy these distinctive parts of this first Gathering in Colorado:
A pre-Gathering daylong mountain excursion into the awe-inspiring Rockies.
A pre-Gathering retreat for Friends of Color and their families.
Vincent Harding, primary author of Dr. Martin Luther King's "Beyond Viet Nam" speech, a man who has lived his life at the intersection of faith and activism, will dialog with us about reconciliation throughout the week.
As always, financial aid is available. Flights to the Denver airport are less expensive than you might think! Registration opens April 3. Find out more and sign up for monthly email updates at www.FGCgathering.org.
---
News
New York Yearly Meeting Now Has a Facebook Page
We invite you to visit—and to Like—the Yearly Meeting's (relatively new) Facebook page: www.facebook.com/NewYorkYearlyMeeting. We are using it to post content that is timely and of possible interest to Yearly Meeting Friends and others. Often it is material that would otherwise go in InfoShare but is too current to wait for bimonthly publication.
Note that you must Like our Facebook page to receive our postings on your own Facebook page. Otherwise, you will have to visit our page to see what's posted there. Liking our page is the best way to receive this news regularly.
Note also that someone else has created a Facebook page for the Yearly Meeting already—we don't know who. The link above goes to the only Facebook page for the whole Yearly Meeting that the Yearly Meeting staff regularly maintains.
Young Friends and Young Adult Friends: Gabrielle Savory Bailey, the Yearly Meeting's Young Adult Field Secretary, also posts to a Facebook page for young and young adult Friends. Check it out!
---
NYYM Authors Featured in Friends Journal
The April issue of Friends Journal has a Focus on "Conflict and Eldering" and the issue features two Yearly Meeting Friends (and one committee). Heather M. Cook, recently YM clerk, discusses nine dynamics that challenge our worship communities in "Meeting Stressors" and Peter Phillips and the Committee on Conflict Transformation discuss creative ways to deal with conflict in meeting in "When Conflicts Arise: Crisis or Invitation?" Do you subscribe to Friends Journal?
---
Committee on Conflict Transformation Seeks A Filmmaker
The Committee on Conflict Transformation requests proposals from filmmakers located in the New York City area.
The Committee will conduct a one-day workshop in New York City on September 28, 2013. The workshop will be filmed and edited into two or three 25-minute films to be posted for streaming from the Yearly Meeting web site.
Those interested in receiving specifications for submitting a proposal for this project should contact the Clerk of the Committee, Peter Phillips, at FPeterPhillips@gmail.com.
---
New York Yearly Meeting Monthly Prayer List
If you would like to have someone or some situation held in the Light or if you have a favorite passage on faith or prayer, please send it on to Julia Giordano. If you have a request for prayer by other Friends who feel led to this practice, any name can be added to the list (1) by itself with no explanation, or (2) with a brief description as to why, or (3) with an asterisk which indicates that you don't want to be contacted or asked why you are on the list. Please do not submit someone else's name without that person's permission. And unless Julia hears from you differently, she will run a prayer request for three months and then remove it from our list.
---
Friends Fiduciary—A chance for input on a Fossil Free Fund
Friends Fiduciary Corporation is an investment fund manager "guided by Quaker principles, values and testimonies." It manages financial assets for Friends organizations and seeks to be a leader in socially responsible investing.
Friends Fiduciary does not presently have a sector exclusion for the oil and gas sector, so it does have holdings in oil and gas companies. They are exploring the possibility of creating an option similar to their Consolidated Fund, but without oil and gas holdings. If you are interested in giving FF your input on a Fossil Free Fund, you can email Friends Fiduciary at info@friendsfiduciary.org. FF's Executive Director is Jeffrey W. Perkins. They are located in Philadelphia.
---
Fifty Dollars for Every NYYM Meeting Library—The H.H. Mosher Fund
At the New York Yearly Meeting Summer Sessions taking place at Silver Bay, NY, the Mosher Fund Book table will be located in the central section of the Inn. We are offering $50.00 worth of books for your meeting library. Be sure to assign someone to pick up your books. We also give a book gift to those graduating from Junior Yearly Meeting.
If you have suggestions for a book, or can help with checking in our books on Sunday at 1 pm, please notify Ruth Ralston. Her contact information is in the Yearbook.
---
Does Your Monthly Meeting Want A Better Website?
If your meeting would like to upgrade its website, please let us know. Steven Davison, the Yearly Meeting communications director, is available to consult with you about your needs and to do the work if your goals are not too ambitious. You should also check out Friends General Conference's new service Quaker Cloud. FGC Quaker Cloud is a web toolkit that offers meetings three services: building, maintaining, and hosting a website; managing your minutes; and creating and managing a meeting directory. Costs for Quaker Cloud are fairly reasonable. The Yearly Meeting is eager to help, as we all know how important an effective website is for Quaker outreach and communication.
---
Old Chatham Meeting's Monthly Film Series
Around nine years ago Old Chatham Meeting began a monthly film series, which is free and open to the public, on issues related to our Quaker testimonies. Subjects of movies have included peace/pacifism/non-violence, prison reform, racial justice, economic justice, the environment, gay rights, election reform, immigration reform and border issues, and spirituality overcoming materialism.
Our Outreach, Peace and Justice Committee divides the responsibilities for the series among its members. We select each month's films based on suggestions gleaned from many sources and research the price and restrictions on showing. We advertise the films to 75 print and radio media, post flyers, some of which are professionally designed and enlarged for local businesses to display, email the flyers to libraries and local churches, and send a press release to our mailing lists developed from sign-up sheets. We also post the films on our website and on Facebook.
We screen the films in Powell House's Anna Curtis Center on the first Monday of each month at 7 p.m. We introduce the movie, announce the next movie, serve cookies and juice, and follow each screening with a moderated discussion led by a committee member, often including follow-up actions to take. The evening is normally over around nine, but sometimes the discussions are so interesting and intense that they are prolonged.
Attendance averages 20, with sometimes 30 coming for some films. We have core attenders, but different people come each time. July features a film especially selected for the entire family and starts with a potluck. These are usually very well attended. A few times, movie goers have come to our Meeting for Worship, but film night comprises a community that has its own energy and cohesiveness. Several times we have been able to get the filmmaker to attend. And often someone will come who is extremely knowledgeable about the film itself.
We have provided information to help other Quaker Meetings and groups start a series and we have loaned our films out to those who cannot make it. Our film series has been continually supported by a New York Yearly Meeting Witness Coordinating Committee grant, for which we apply annually.
Once we move into our new Meetinghouse across the road, our films will be shown there. If you want to know how to start a film series in your meeting, please contact Bob Elmendorf, 518-766-2992, poetapoetus@taconic.net, who will be happy to provide you with all the materials you need to make your series a success.
---
Voices of Friends—A New Website for Seekers from FWCC
"A website for people who are looking for a new religious community but just don't know that it's call Quakerism"—that's how Friends World Committee for Consultation describes their new website for seekers, www.voicesoffriends.org. "Voices of Friends aims to feed the soul of those who feel an affinity to the beliefs and practices of Quakers and to provide an entry point to understanding Quakerism today in all its diversity."
The website has three sections: Learn About Quakerism, Quaker Thought Today, and Experience Quakerism. The site is simple and attractive, and it represents Friends from all branches in all parts of the world. It has great interactive maps for finding meetings (and also here). It has links to all kinds of resources, including books of Faith and Practice from a LOT of yearly meetings, plus Quaker media, blogs, publications, and a searchable library.
This is a terrific resource and worth recommending to the seekers you meet and adding to the resource packet you give to new attenders to your meeting.
---
Lyall Memorial Federated Church Looking for a Pastor
Lyall Memorial Federated Church is looking for a pastor. The church was incorporated in 1926. The church is a federation of the Reformed Church in America, the United Methodist Church, and the Society of Friends (Quakers). It is located in Millbrook, New York 12545. The congregation is a fellowship of Christians who seek to know Jesus Christ, to acknowledge Him as Lord of their lives, to make Him known to others, and to share His love in ministry to the world. The church's worship is Christ-centered and biblically-based. They offer a variety of worship experiences which blend Methodist, Reformed, and Quaker traditions. The church incorporates Nine Partners Monthly Meeting, which is part of New York Yearly Meeting. For more information go to www.lyallmemorial.org and then click on the pastor search tab at the top.
---
Report on a Joint NYYM/NEYM Consultation on Eldering
Building Up the Life of Our Meetings:
A Retreat for Those with a Call to Eldering and a Concern for Vital Worship
Eldering Consultation Report
In December 2012, New York Yearly Meeting and New England Yearly Meeting Friends held their first joint eldering consultation at Woolman Hill Retreat Center, in Deerfield, MA. The purpose of the retreat was to give Friends who have the gift of eldering an opportunity to share our experiences, to learn from each other about how we deal with them, and to talk about how to draw out gifts of eldering in others. A total of 42 people participated.
Click the following to download the full report.
---
Pendle Hill Seeks Guest Services Manager
GENERAL SUMMARY: The Guest Services Manager has the responsibility of efficient hands-on management of the hospitality services and staff in order to meet guests' needs while on campus. This position also supervises cleaning personnel and housekeeping functions. Responsibilities will include daily supervision of staff, assignment of tasks and schedules in order to ensure prompt provision of a welcoming, clean, healthy and safe environment for all students and guests in all areas. Purchasing, within budget and according to the "triple bottom line" philosophy, is also a part of this work.
This position works strategically with the Events Planning Team to define, quantify, and maintain standards as well as to improve procedures and systems for the delivery of excellent customer service in dining rooms, guest rooms, and meeting rooms. Responding to customer complaints and to their recommendations and compliments will be an important factor ensuring continuous improvement in this department.
Submit a current resume, contact information for three references, and a cover letter describing your qualifications (including how you heard about the position) to Sandy Horne at Pendle Hill, 338 Plush Mill Road, Wallingford, PA 19086, or shorne@pendlehill.org.
Click here to download a complete job description, desired qualifications, and compensation, or visit www.pendlehill.org.
---
Government Officials Respond to Our Minute Opposing Fracking in New York State
A total of six government officials responded formally to our press release announcing the Yearly Meeting's minuted stand against hydrofracking in New York State and beyond. (Click the names to read their letters.) They are:
---
Schedules
Travel Calendar — L.B. Callid Keefe-Perry, Visiting Friend

March 31 through June, 2013
March
| | |
| --- | --- |
| 31 | Brooktondale Worship Group |
May
| | |
| --- | --- |
| 11 | Manhasset Meeting |
| 12 | Conscience Bay Meeting |
| 19 | Hudson Meeting |
June
| | |
| --- | --- |
| 1–2 | Chatham-Summit Meeting |
| 8 & 9 | Adirondack Meeting |
| 15–16 | Chappaqua Meeting |
---
Travel Calendar — Young Adult Field Secretary
Gabrielle Savory Bailey

April to May, 2013
April 5–7 Spring Sessions, Locust Valley, NY (That is on Long Island)
April 12–14 Adirondack MM, Glens Falls, NY
There will be a gathering of YAF and Families on Saturday evening. On Sunday anyone in the area is welcome to worship at 10:30. I am hoping to bring the message to worship. If you have never experienced a programmed worship, this would be a great opportunity.
April 26–28 Farmington-Scipio Spring Gathering, Penn Yan, NY
This is a GEM of a gathering. I never knew it existed! What fun for individuals and families! It is held at a camp in the Central Finger Lakes. Anyone is welcome. There is time to worship, fellowship, and sessions on different things. I do not know what this year is. There is a great Youth Program. My whole family loves it. I have met wonderful people there. Camping is available. If you live in Farmington-Scipio RM, or want to see what I am talking about, PLEASE consider going. There are usually a good number of YAF there, as well as families. Kids love it!
May 10–12 Leading a Family Weekend at Powell House
This is a Powell House opportunity for the WHOLE family. During this weekend we will look at what tools Quakerism gives us as families and individuals to help us in our daily life. Through story, art, role playing, discussion, small groups, worship, and active participation of people of all ages, we will be exploring tools like holding someone in the light, worship/centering, simplicity, clearness committees/discernment, and others. We will create a "toolbox" that families and their members can use. There will not be childcare at this weekend, as the children will be part of the sessions with the adults. There will be time for parents to talk about their experiences as well. More info is coming!
I am so excited for this opportunity for families to do meaningful Quaker work together! My 2-year-old will be there! Will you and your family?
May 31–June 2 Self-care and Spirituality
We've all been busy, whether it's with work, school, family, life, every one of us is under strain. As Friends we are often found in service, to our community, to others, to the world, but in our dedication we may forget or lose the time to service ourselves. How do you nurture yourself?
Come take a weekend where neediness is encouraged, relax with friends, eat, sleep, and self-obsess a little. We will focus on self care as a manifestation of divine love. As we cherish the gift of life our spirituality deepens. We will delve into the relationship of faithfulness and care of self. Setting aside common teachings that care of self is selfish we will consider how it is integral to our faith journey.
Cost: Casowasco will charge us $150 per person. Through the generosity of some NYYM committees we are hoping to reduce that charge to as low as $70 pp, if needed by the individual. If you can afford the full amount, or more than $70, that will allow more people to get reduced funding. Funding is also often available from Monthly and Regional Meetings. Please do not hesitate to contact Gabi Savory Bailey about ways to access various funding sources.
Registration will open on April 10, 2013. Please visit this link to register after April 10.
You can also visit the event page on Facebook for updates: Facebook
Please contact Gabi Savory Bailey, NYYM Young Adult Field Secretary, at nyym.yafs@gmail.com or Luke Jones lj82@cornell.edu with any questions or concerns.
July 21– Summer Sessions, Silver Bay, NY
This is the annual NYYM Sessions held at Silver Bay on Lake George. It is a residential gathering for people of all ages where we do our YM business, fellowship, speakers, Junior Yearly Meeting, committees, interest groups, swimming and activities, and worship. There will be much more information coming up soon. If you love Summer Sessions, tell people! If you want to know more, contact me for information, Nyym.yafs@gmail.com.
Would you like me to come to your Meeting, or Region? Would you like someone to support the work that is already being done there? I am eager to travel to do a program, support an existing program, or simply sit and listen. Contact me at nyym.yafs@gmail.com.
---
Travel Calendar — Associate Secretary Helen Garay Toppins

March 31 through June, 2013
| | |
| --- | --- |
| April 5–7 | Spring Sessions, Locust Valley, NY |
| April 19–21 | Quaker Quest Training, Pendle Hill, Wallingford, PA |
| April 28 | Fifteenth Street Meeting, New York, NY |
| May 26 | Manhasset Meeting, Manhasset, NY |
| June 8 | Green Haven Prison Quarterly Meeting, Stormville, NY |
| June 15 | Woodbourne Prison Protestant Day, Woodbourne, NY |
| June 22 | Otisville Prison Day of Reflection, Otisville, NY |
| June 23 | Flushing Meeting, Flushing, NY |
Travel Calendar — ARCH Coordinators
Anita Paul, Barbara Spring, and Callie Janoff
April 20 — An all day workshop/retreat on the Testimony of Community; Anita at Rochester Meeting.
April 26–28 — The Power of Music Throughout the Lifetime Workshop; Barbara at Farmington-Scipio Spring Gathering.
May 4 — Telling Our Story Workshop; Anita and Barbara at Northeast Regional Meeting, Schenectady.
---
Schedule of Upcoming Quarterly, Half-Yearly,
and Regional Meetings
| | | | |
| --- | --- | --- | --- |
| Meeting | Date | Location | |
| All-Friends | April 28 | Chatham-Summit | |
| Butternuts | May 18 | Hamilton | |
| Farmington-Scipio | April 26–28 | (Spring Gathering) Long Point Camp, Penn Yan, NY | |
| Long Island | April 28 | Matinecock | |
| New York | April 21 | Fifteenth Street | |
| Nine Partners | May 5 | Bulls Head-Oswego | |
| Northeastern | May 5 | Schenectady | |
| Purchase | May 5 | TBD | |
---