InfoShare, June 2015
InfoShare
N e w Y o r k Y e a r l y M e e t i n g
R e l i g i o u s S o c i e t y o f F r i e n d s
Volume 14
June 2015
Number 3
Editor: Steven Davison
Quicklinks
All welcome!
Summer Sessions
July 19–25, 2015 • Silver Bay YMCA, Silver Bay, NY
320 Years, One Faith. 60 Years, One Meeting. Today, One Vision.
Registration & Information — Please come!
Contents
NYYMOnline
News & Announcements
Job Opportunities
Upcoming Events
Conferences
Staff Calendars
Resources for Meetings
The Yearly Meeting website has a new section featuring resources for meetings, including:
ARCH—information on ARCH Visitors and other aging resources;
Trustee Funds—a list of funds available to meetings;
Forms—forms for meeting recorders, including the new member form and all other membership forms; for clerks, the annual meeting information form;
Clerks & recording clerks—resources on clerking and recording minutes;
Advancement—advancement materials, including books and pamphlets introducting Quakerism and Quaker worship, handouts for visitors and newcomers, and more;
Racism—resources from Philadelphia Yearly Meeting to help meetings address racism; and
Conflict in meetings—resources on transforming conflict from the Yearly Meeting's Conflict Transformation Committee.
Vidoes on nyym.org
See our Videos section on the Yearly Meeting website, a comprehensive collection of links to videos by and about Friends anywhere—dozens of videos from a wide variety of sources on a wide variety of Quaker topics.
NYYM on YouTube and Google+
YouTube. The Yearly Meeting now has a YouTube channel—youtube.com/c/NyymOrg that features the videos made by the Yearly Meeting's Conflict Transformation Committee of its workshop, Conflict in Quaker Meetings: Crisis or Opportunity?.
Google+. We also have a new Google+ page: google.com/+NyymOrg, which is Google's version of a Facebook page.
News & Announcements
Recent Witness Minutes of New York Yearly Meeting
At Spring Sessions 2015, the gathered body of the Yearly Meeting endorsed the Peace & Planet Mobilization for a Nuclear-Free, Peaceful, Just, and Sustainable World, to be held in New York City April 24–26. The body also agreed to send Friends to serve on the 2016 White Privilege Conference host committee; the Conference will be held in Philadelphia. Finally, the gathered body approved a minute of conscience opposing solitary confinement and sent a letter supporting a New York State legislative reform bill to the New York State governor and legislators.
You can see all of the Yearly Meeting's minuted witness work for the past several years on our Actions We Have Taken page on our website.
Flushing Meetinghouse a featured sacred landmark
The New York Landmarks Conservancy featured the Flushing Meetinghouse in its annual open house celebration of sacred spaces, held in May. You can view a video about the event here and visit the Conservancy's website article about the weekend, including photos.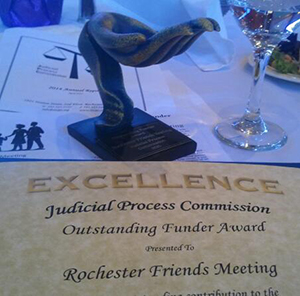 Rochester Meeting honored by the NY State Judicial Processs Commission
The New York State Judicial Process Commission awarded Rochester Meeting its Outstanding Funding Award for outstanding contribution to the Commission over the years and gave the meeting a Tea Light Holder as a token of appreciation.

Monthly peace vigil in Washington Square Park, Greenwich Village, NYC
Friends from meetings in New York City hold a peace vigil every first Sunday of the month at the Washington Square Park arch in Greenwich Village from 1:00 to 2:00 pm.
Quaker earthquake relief in Nepal
Friends Peace Teams. Friends Peace Teams were in Kathmandu conducting workshops when the devastating earthquakes occurred this spring, and they were able to organize relief efforts through their network. You can read more at the Friends Peace Teams–Asia West Pacific website.
Evangelical Friends Mission. (EFM) has two couples and one family serving as missionaries in Nepal, and Nepal now has two yearly meetings with a total of 40 Quaker meetings. Click the following link to learn more about EFM's relief work there after the terrible earthquakes.
Metuchen Edison Area (NJ) Branch of the NAACP honors Friends
As part of its 10th Annual Juneteenth Festival on Saturday, June 13, 2015, this local branch of the NAACP honored Friends with their Freedom Award for Friends' role in abolishing slavery. The oldest known celebration of the end of slavery in the US, Juneteenth commemorates the announcement of the end of slavery to the last slaves to learn of their freedom, in Texas in June of 1865, two and a half years after the Emancipation Proclamation.
Jeffrey Aaron, New Brunswick Meeting, and Jeffrey L. Hitchcock, Rahway & Plainfield Meeting and clerk of New York Yearly Meeting, both presented programs to the chapter this spring. Jeffrey Aaron spoke on "350 Years of Quaker Anti-racism Activism" and Jeffrey Hitchcock spoke on current efforts to confront racism both within the Society of Friends and in society at large. Click the following to download a letter that includes the citation.
AVP looking for a volunteer treasurer
AVP/NY is a 501c3 not-for-profit organization with an annual budget of $46,000. Our Office Administrator, Shirley Way keeps the books for the organization. Our former treasurer, Tino Bellanca, died in April. We are searching for a volunteer to take on this work. The treasurer does not need to be active in AVP. Familiarity with QuickBooks is helpful but not essential.
Please contact Jill McLellan at 585-526-5202 or mclellan@frontiernet.net or Shirley Way at 315-604-7940 or info@avpny.org.
A message from Indian Affairs Committee
The Indian Affairs Committee stands at a unique point in its his(her)story. The IAC is one of the longest standing committees in the History of Friends with Native People, convened in 1798.
Susan Wolf, the IAC Clerk of many, many years is stepping down. Susan has provided, sometimes single handedly, hours beyond counting of work to the committee. She has sustained the committee not only among Friends but in the Native communities in New York where it is said that "her name is synonymous with Quakers."
This summer the Clerkship and a new group of IAC committee members (Emily Boardman (clerk) Joe Kulin, Liseli Haines, Tom Rothschild, Rebekah Rice) will step forward with enthusiasm and some trepidation. There is no question that we will be building on the good works of the committee's past as we look forward to new ventures and alliances with the Native Community, the greater body of Friends and those who share our call.
Freida Jacques shared wisdom two years ago, as our Keynote speaker at Summer Sessions, and made it abundantly clear that there is much that Friends share with Native Peoples. The story of the "Good Mind", the 'Peace Keeper' and the 'Tree of Life' resonates in the hearts of all Friends.
It is our hope that we:
recognize that we ALL "Stand On Sacred Ground"
have a responsibility to learn all we can about what that means
and bring it into our Practice
We recognize the "Original Instructions" remembered by Indigenous Peoples, and if they are ready and willing to share that wisdom, it is imperative that we learn what we can so together we might re-member the sacred place of our being. It is to that end that we move forward.
In 2012, our Yearly Meeting repudiated the Doctrine of Discovery, proclaimed in Papal Bulls of the 15th Century to justify the theft of Native lands. Two years ago, many Friends joined in the wonderful experience of the Two Row Wampum Renewal Campaign and last year NYYM endorsed the petition for Clemency for Leonard Peltier. Now our committee plans to bring a call for the NYYM to endorse a letter to Pope Francis this Fall repudiating the Doctrine of Discovery, in support with the Native Elders. In all of this, we see the possibilities of mutual efforts moving forward in any number of exciting and spirit led ways.
This past month the reconfigured Indian Affairs Committee gathered at Kanatsiohare:ke, (the retreat center of the traditional Mohawk) near Fonda, NY. The gathering was hosted and joined by four traditional Elders: Freida Jacques (clan mother of the Onondaga Nation,) and Mohawk Elders, Kay Olan, Tom and Alice Porter. It couldn't have been a more perfect place to celebrate Susan's service. Together we shared a conversation of deep wisdom and a mutual willingness to continue in the spirit of the Two Row, paddling side by side down the River of Life with deep respect for the Earth and one another.
We wish to acknowledge and thank Susan for her service and labor of love, and also ask us all to bring the best that is in us to the search for greater understanding, fellowship and an honoring of our common Creator and Earth the Great Mother of us all.
Quaker Earthcare Witness Mini-Grants for Meetings
QEW makes grants available for Friends' organizations who want to enhance their physical/spiritual relationship with the Earth. They offer matchibg grants of up to $500 to support projects consistent with QEW values. Click the following to see deatils on QEW Mini-Grants.
Job Opportunities
FCNL: Quaker Field Secretary
Friends Committee on National Legislation is seeking a spiritually grounded Friend to nurture, expand, and deepen FCNL's relationship with Friends across the US. The Quaker Field Secretary will develop new ways to engage individuals both within the Religious Society of Friends as well as individuals who are seekers for the Quaker way of living faith into action.
Download FCNL's job description
Back to top
Upcoming Events
June 26–July 1 — Quaker Spring: Experiencing the Inner Christ
Oakwood School, Poughkeepsie, NY
A radically unprogrammed retreat with Friends from a variety of theological backgrounds. The program will be shaped by God's leading as the week unfolds. Each day will include: Bible study, worship, quiet time, evening explorations, and fellowship.
Welcoming to Friends of all branches of Quakerism. Fees by freewill offering (guideline of roughly $35-$70/adult/day for dorm room & meals). Deadline for the children's program has already passed. More information & registration at quakerspring.org. Or contact the planning group at quakerspring@gmail.com or c/o Deborah Haines, 2794 Fort Scott Drive, Arlington VA 22202, 703-706-8176.
July 5–11 — Seeking Wholeness: The FGC Gathering
Western Carolina University, Callowhee, NC
Click the following link to visit the website for this year's FGC Gathering.
July 19–25 – NYYM Summer Sessions
Silvery Bay YMCA, Silver Bay, NY
320 Years, One Faith. 60 Years, One Meeting. Today, One Vision. Register now to come to New York Yearly Meeting's Summer Sessions. Enjoy worship and fellowship. Nurture and explore your personal spiritual life and our collective religious life. Participate in the work the Yearly Meeting does within our community and out in the world.
Conferences
August 14–17 — Quaker Religious Education Conference
Pendle Hill, Wallingford, PA
The Quaker Religious Education Collaborative (QREC) invites Friends to join their growing community of practice to think together beyond traditional forms and structures for religious education; share ways to welcome and enfold families in meeting; preview RE resources; and explore new ways to be together throughout the year. Includes worship, plenaries, workshops, interest groups, fellowship, and celebration.
Download the QREC conference brochure.
September 30–October 2 — Quaker Fundraisers Gathering: Fundraising as a Spiritual Practice
Wyndham Hotel, Philadelphia, PA
The Gathering begins with registration and a reception at 4 p.m. on Wednesday, September 30, followed by dinner and the keynote by Thom Jeavons. Thursday is a full day of sessions with an opportunity to network in affinity groups of similar organizations. Thursday evening includes free time and dinner on your own. The Gathering continues on Friday morning with additional sessions. The Gathering will conclude on Friday, October 2nd at noon. Sponsored by Friends Fiduciary Corporation.
Visit the Fundraisers Gathering website.
October 17 — Workshop: Integrating Children into the Spiritual Life of the Meeting: Creating One Spiritual Community
Brooklyn Meeting, 9 am – 4 pm
How can our meetings better integrate our children into the spiritual life of our Meeting? How can we give them a voice in their experience of Quakerism and an awareness of Quaker process? Participants will leave with new energy, new ideas, and new tools to implement these ideas.
Sessions will explore both the worship and the community aspects of Quakerism, including children in the circle of meeting life: joys and challenges; supporting children's spiritual development; and hands-on approaches to teaching children Quaker process. Some parts of the day will be multigenerational and childcare will also be provided.
Facilitators: Mary Harpster and Melinda Wenner Bradley.
Download the workshop brochure.
Back to top
Staff Travel Calendars
ARCH Coordinators:
Callie Janoff, Anita Paul, and Barbara Spring
| | | |
| --- | --- | --- |
| June 13 | Callie | Friends Foundation for the Aging Grantee's Meeting Chandler Hall in Newtown, PA |
| June 20 | Barbara | Meeting with NJ Visitors June 20 at Rahway-Plainfield. 10 am - 3 pm |
| July 5–10 | Anita & Barbara | Friends General Conference Gathering |
| July 19–25 | Anita, Barbara, & Callie | NYYM Summer Sessions |
| August 3–4 | Anita | New England Yearly Meeting Annual Sessions |
| | |
| --- | --- |
| June | |
| 1 | Facilitate Auburn Prison Preparative Meeting spiritual nurture retreat, Auburn, NY |
| 6 | Attend Farmington Scipio Regional Meeting's first Extended Worship, Perry City, NY meetinghouse |
| 15 | Meet with General Secretaries of BYM, PhYM, NEYM, and FGC, Philadelphia, PA – TRIP CANCELLED DUE TO ILLNESS- CONFERENCE CALL INSTEAD |
| 17 | Visit Fifteenth Street Meeting discussion sessions, New York, NY – CANCELLED DUE TO ILLNESS |
| 29–30 | Participate in Quaker Spring, Oakwood School, Poughkeepsie, NY |
| July | |
| 19–25 | Attend NYYM Summer Sessions, Silver Bay, NY |
| | |
| --- | --- |
| June 5–7 | Co-facilitated Growing the Blessed Community: A Retreat for Small Meetings and Worship Groups, Powell House, Old Chatham, NY |
| June 13 | Sing Sing Prison Quaker Quarterly Meeting, Ossining, NY |
| June 21 | Woodourne Prison, Quaker Worship Group, Woodbourne, NY |
| June 27 | Otisville Prison, Quaker Day of Reflection, Otisville, NY |
| June 28 | Visited Flushing Meeting |
| July 18–25 | NYYM Summer Sessions |
| August 16 | Woodbourne Prison, Quaker Worship Group, Woodbourne, NY |
| August 21–23 | Fellowship of Friends of African Descent, Philadelphia, PA |
Back to contents